Small Business
Business Debit Card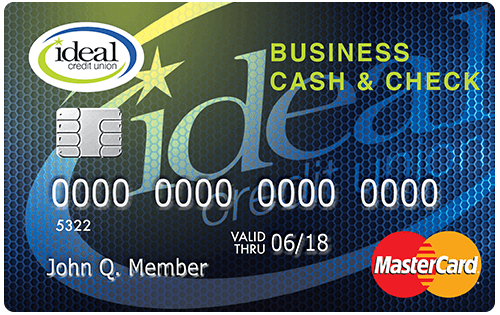 Reliable & Secure Spending
Manage cash flow with accurate, purchase-by-purchase record keeping. You'll also enjoy great rebates on many of your business purchases through the MasterCard Easy Savings® Program.
Accepted at Millions of Locations
Secure with Zero Liability
Spend your way
Accepted at millions of locations
Free access to your money at Ideal CU ATMs and ATMs within CO-OP and MoneyPass networks
Shop online, at stores and even over the phone
Monitor spending easily with Online and Mobile Banking
Advanced Security
Zero Liability meaning you won't be held liable for unauthorized purchases
We monitor unusual activity to alert you to debit card fraud
24 hour cardholder service in case of a lost or stolen card
Business Debit MasterCard™ Benefits
In addition to the convenience of acceptance at millions of locations worldwide, the safety of Zero Liability* protection against unauthorized purchases, and 24/7 lost or stolen card reporting, you'll also benefit from1:
MasterCard Easy Savings Program™
Earn rebates on eligible purchases that are automatically credited to your business checking account when you use your enrolled card at participating merchants. Learn more at easysavings.com.
MasterCard Global Service™
Receive around-the-clock customer service assistance with Lost and Stolen Card Reporting, Emergency Card Replacement, Emergency Cash Advance, as well as assistance with locating ATMs and help with card-related questions.
MasterCard Travel Assist Services
When you're traveling 50 miles or more from home, you can rely on a host of travel related assistance services including medical and legal referrals that can help you in emergency situations.
Zero Liability*
You pay only for the purchases you have authorized on your MasterCard card, and you won't be held liable in the event of an unauthorized purchase. This coverage extends to purchases made in stores, over the phone, or online. Learn More
Master Rental
Insurance pays for covered damages (physical damage and theft) to a rental vehicle when you use your card to initiate and pay for the entire rental transaction.
Extended Warranty Insurance
Doubles the time period and duplicates the coverage of the original manufacturer's or U.S. store brand warranty for a maximum of one year.
Purchase Assurance & Trade
You're covered for most items you purchase with an eligible card if they are damaged or stolen within 90 days of the date of purchase.
VAT Reclaim
The Value Added Tax Reclaim Service from MasterCard provides companies doing business in Europe an easy and efficient way to reclaim their VAT.
File a Claim or Get More Information
To file a claim or for more information on any of these services, call the MasterCard Assistance Center at 1-800-Mastercard (627-8372).
*Certain restrictions apply. Please see www.mastercard.us/zero-liability.html for more details.
1See the MasterCard® Guide to Benefits for Debit Cardholders for full Terms & Conditions.