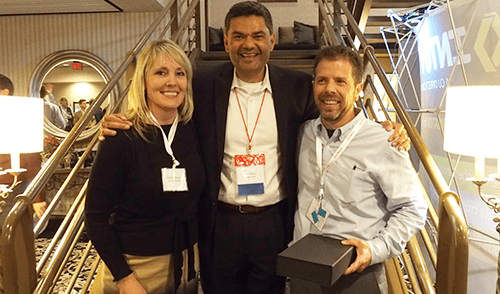 (Woodbury, MN – November 24, 2015) – Ideal Credit Union's VIP Member Rewards Program was recently selected as the winner of the OnApproach Big Data & Analytics first ever Credit Union Industry Analytics Best Practices Competition.
Four finalists were selected to showcase their hottest reporting, dashboarding, and/or analytics work product at the OnApproach Big Data & Analytics Conference. The goal of the competition is to help the credit union industry become more analytically driven by collaborating and sharing best practices.
"The VIP program has been a driving force at Ideal, helping staff to focus on increasing Share of Wallet (SOW) by focusing on the 4 C's. The first C is Checking - the account that experts feel determines PFI (Primary Financial Institution). The next C's also drive profitability for our organization - Credit Card, Car (Vehicle) Loan and Casa (Mortgage Loan)," said Alisha Johnson, Ideal CU Senior Vice President - Marketing, Sales and Service.
The VIP program is designed to encourage members to bring all of their accounts to Ideal Credit Union, and when they do, Ideal rewards their loyalty by paying an annual VIP dividend. Throughout the year, staff focus on helping members maximize their payout. VIP payouts have ranged from $5 to $605. In addition to the payout, VIP members also receive reduced fees and no fee opportunities. The program itself, which tracks credit card activity, loans, mortgage, and checking account and debit card activity throughout the year is a "Win/Win" program. "The member wins by taking advantage of Ideal's low rates, highly competitive products and the annual dividend. The credit union wins by earning the PFI designation and increasing the SOW for each member. Since 2012, Ideal Credit Union has increased VIP membership by 16% and paid out over $1.5 million in VIP dividends," Johnson added. Prior to 2012, Ideal was unable to successfully integrate the data necessary to run such a program. In 2012, Ideal partnered with OnApproach to integrate data from its core system and other ancillary product databases using the OnApproach M360™ Enterprise data integration platform. This enabled Ideal to have a member-centric view of its data and thereby make the VIP program a reality.
Dennis Bauer, CFO at Ideal commented, "VIP is one of the most popular member programs we've ever launched. Now, with the additional ability to drive other marketing programs with the VIP information, we are truly leveraging the value of our data."
Ideal CU President/CEO Brian Sherrick said, "One of the most significant initiatives we have done in our 87-year history was to implement our VIP Program. This program is designed to reward those who truly utilize the wide variety of products and services we offer."