Ideal Debit Cards
Debit Rewards Program
My Rewards® Blue Debit Card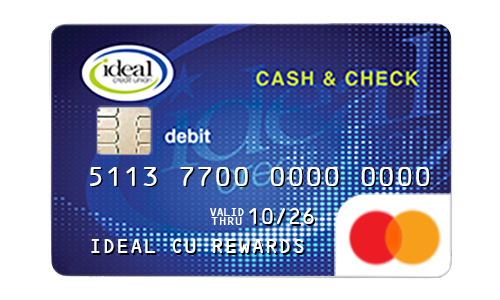 Your everyday purchases can earn you rewards! Next time you're at the grocery store, post office, dry cleaners or pharmacy, instead of paying with cash, check or credit card, use your Ideal Credit Union Debit Card. As you continue to use your card, you'll keep earning points.*
How does it work?
Eligible accounts will earn points when using your debit card for both in-store and online purchases. You will earn one point for every $100 spent with a signature or PIN transaction. To maximize the number of points you will earn, be sure to use your debit card instead of check, cash or credit card.
My Rewards® Gold & Platinum Debit Card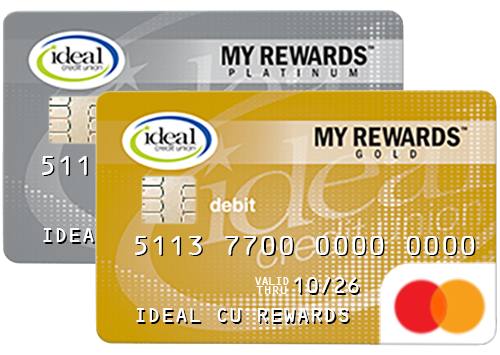 Sign up for the Ideal My Rewards® Gold or Platinum Debit Card to enjoy all the exclusive benefits of the Ideal Debit Rewards Program. Consider it our "Thank You" for being a loyal member of Ideal Credit Union.
How does it work?
It's easy! We'll give you points for simply using your My Rewards® Gold or Platinum Debit Card to purchase merchandise or services. Then, redeem your points and receive great rewards.
Earn points for Everyday Purchases
Cash Back when Shopping Online
Extended Warranty
Short-Term Loans**
Local Discounts and Coupons
Visit Rewards Site Card Benefits
90 Day Free Trial
Reward yourself with a 90-day free trial***
Sign up today with promo code IDEAL90FREE to receive a free 90-day trial. Click get started below to create your new Ideal Debit Rewards account.
Free My Rewards® App
Access the benefits of the My Rewards® Gold or Platinum Debit Card through your mobile phone with a direct link to your rewards account.