8 Steps to Buying a Used Car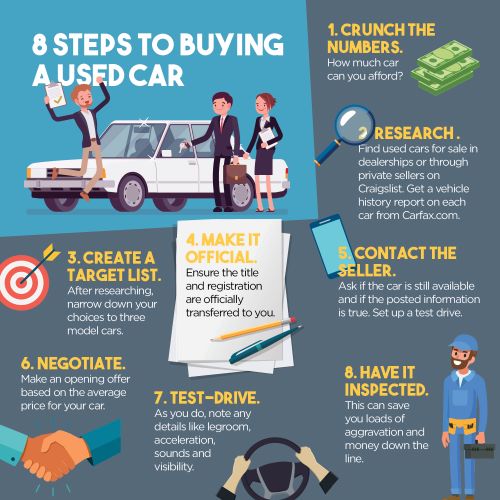 Buying a used car can be a great money saver over buying new, but it's important to do your homework before committing. Here are 8 helpful tips to keep in mind as you cruise the lots and surf the internet looking for bargains.
Crunch the numbers – How much car can you afford?
Research – Find used cars for sale in dealerships or through private sellers on Craigslist. Get a vehicle history report on each car from Carfax.com.
Create a target list – After researching, narrow down your choices to three model cars.
Contact the seller – Ask if the car is still available and confirm the posted information about the vehicle is correct. Set up an appointment for a test drive.
Test-drive – As you do, note any details like legroom, acceleration, sounds and visibility.
Have it inspected – This can save you loads of aggravation and money down the line.
Negotiate – Make an opening offer based on the average price for the car you wish to buy.
Make it official – Ensure the title and registration are officially transferred to you.
Ideal CU can make financing your next vehicle quick and convenient with 24/7 online loan application and competitive rates. Keep us in mind when it's time to finance your next ride.
Related Posts