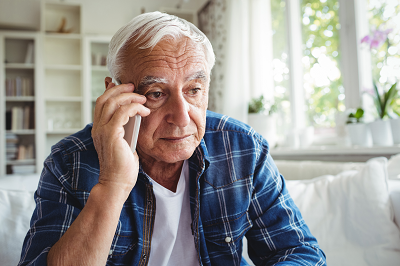 The Federal Trade Commission (FTC) is warning of a surge in Social Security scams heartlessly targeting the elderly who depend on Social Security benefits for basic living needs. The scammers also know that the elderly can be overly trusting, making them easy victims. And, unfortunately, these scams are too often successful. Here's how these scams work:
The victim receives a phone call from an alleged Social Security employee telling them their benefits have been suspended and need to be reactivated. To lift the suspension, they say, the victim must share their personal information.
Alternatively, the victim receives an automated voice message instructing them to call a specified number to reactivate their Social Security benefits. Upon calling the given number, the victim will be asked to provide their personal information.
In yet another version, the victim receives an email looking like it came from the Social Security Administration (SSA). The email includes a link asking the victim to update their personal information, and giving a similar backstory as above.
Protect yourself and your loved ones with these tips:
The Social Security Administration will never call about suspended benefits
Don't believe a caller claiming your benefits have been suspended. Government agencies rarely make phone calls to private citizens. When they do, the citizen will always know in advance to expect that call.
Never share personal information via unsecured means
It's best not to share personal information over the phone or the internet. If you must, verify you are interacting with the party you believe you've reached. The best way to do so is by contacting the SSA yourself at 1-800-772-1213.
Report all scam attempts
If you receive a phone call or an email from an alleged SSA employee requesting information, don't respond. Instead, call the SSA at 1-800-772-1213 and ask if there is actually a problem with your benefits. If, as is likely, you're being scammed, the SSA will be better equipped to stop the scammers.
You can also fill out a Public Fraud Reporting form at socialsecurity.gov
Tell your friends and family
Tell anyone you know about these scams and warn them not to share their information on the phone and online.
Keep your money safe and send those scammers packing!
Sources:
https://www.consumer.ftc.gov/blog/2018/09/your-social-security-number-isnt-suspended-ever
https://www.ssa.gov/phila/scams.htm
https://www.google.com/amp/s/www.fool.com/amp/retirement/2018/09/09/the-social-security-scam-that-just-wont-die.aspx