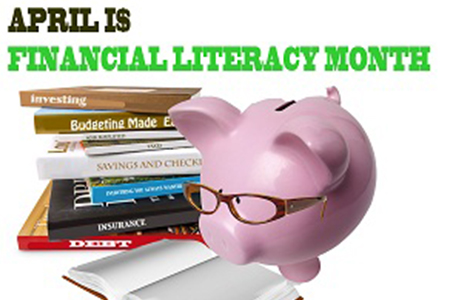 "April showers bring May flowers," goes the old saying. It's also a great lesson about the importance of saving – where weathering some light showers can pay dividends during the nicer days that are to come.
April is Financial Literacy Month, and a great time to think about some important lessons everyone can learn about finances. Whether you're a parent looking to make talking money with your kids easier or a professional looking for a few tips, there's always something to learn. Here are some fun activities you can do to expand your financial knowledge.
Make a financial date night
If you want to improve your knowledge of finances this month, schedule a financial date night. It doesn't matter if you're partnered or on your own, it works the same way. Pick a day when there's nothing good on TV, no major social events and no serious distractions. Put some light music on. Sit down with your bills, your paycheck and anyone else who matters to your finances, and figure out where you stand.
Jot down some goals and think about how you can achieve them through your monthly budget. Make a financial date night part of your monthly routine!
Build a list of needs and wants
One of the best ways to build an efficient budget is to start from a list of priorities. What do you spend your money on each month? Make a list of your expenses. Then, break them into one of three categories.
The first category is the essential, non-negotiable bills. These are your big-ticket essentials that have serious consequences for missed payments. Your auto loan, your rent, etc. This is the bare minimum you need to make each month.
The second category is the essential, negotiable obligations. These are unsecured loans such as credit cards and student debt (when applicable).
The third category is the nonessential spending. This is everything else you spend money on each month. This is the best place to make cuts when you want to shift your priorities.
Making a list of priorities is the first step to making solid plans and reshaping your own financial destiny. When you know where your money is going, you can start to move from financially existing to intentionally spending. That's the beginning of improved financial literacy.