How To Write "Thank You" Cards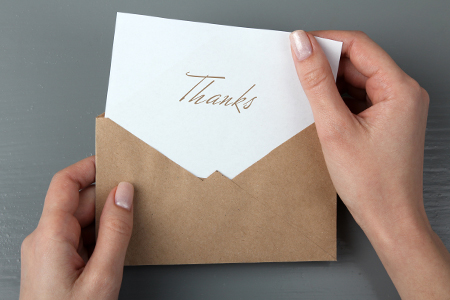 Whether it's your graduation, an important milestone or special occasion, "thank you" cards can help show your gratitude. People love receiving handwritten cards. Who doesn't love getting a surprise in the mail?!
Here are some helpful tips for when you write "thank you" cards:
Typically after the ceremony, gift and/or celebration, rule of thumb is to send out the cards within two week. That will allow you enough time to write all of them
Personalize your thank you cards rather than writing the same message on every card. Use the person's name, the gift that was given and your token of appreciation in each card.
Some ways you can personalize a "thank you" card includes:
Thank you so much for the generous graduation gift! I appreciate your support, and I am planning to purchase a [new laptop].
I am so grateful for the gift card! It will be put to good use quickly as I plan to purchase [luggage for my upcoming travels].
Thank you for thoughtful graduation gift. It will definitely come in handy buying textbooks
All these examples express gratitude and acknowledge what the money or gift will go towards. A personalized message has more meaning and will better show your appreciation.