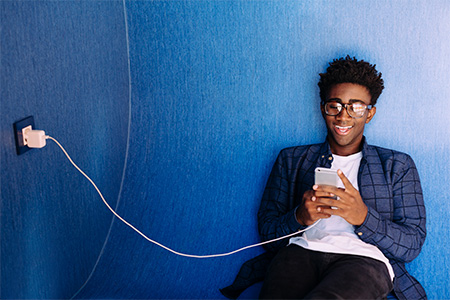 You know the feeling. It's like a coffee addict running low on caffeine, or like a hiker almost out of drinking water. You're travelling and your phone is running low on juice. Frantic, you're searching for a place to plug in and recharge. The last thing you want is to be completely stranded in a strange place with no way to order an Uber or pay for your dinner.
In one last desperate move, you search through your bag for the charging cable you always keep there – and then you remember you lent it to your friend and never got it back. What to do? And then, like an angel, a stranger appears out of nowhere with a friendly smile on their face. They're holding a wonderful, beautiful charging cable in their hands.
"Do you want to use this?" they ask.
What do you do?
Smile your thanks, grab the cable and plug in your phone.
Say "No, thank you," before walking away, dead smartphone and all.
If you chose B, you made the right decision. Cybersecurity experts are warning against using a stranger's charging cable or even borrowing one from an airport official or front-desk concierge at a hotel.
"There are certain things in life that you just don't borrow," says Charles Henderson, global managing partner and head of X-Force Red at IBM Security. "If you were on a trip and realized you forgot to pack underwear, you wouldn't ask all your co-travelers if you could borrow their underwear. You'd go to a store and buy new underwear."
Henderson warns that cyberhackers can easily implant charging cables with malware that can be used to hijack mobile devices and computers. This can spell complete disaster for the desperate traveler who graciously accepted the spare cable from their fellow passenger and plugged in their device.
At the annual DEF CON Hacking Conference in Las Vegas, a hacker known as MG showed the attendees how he had modified an iPhone lightning cable to serve as a hacking device. MG used the cable to connect an iPod to a Mac computer and then remotely accessed the cable's IP address to take control of the Mac.
Don't be fooled into thinking that charging cables left over by previous guests in the front desk of the hotel are any better than a cable offered by a stranger.
For now, it's best to be aware of this threat and to practice caution when travelling. Henderson adds that using public USB charging stations is currently a larger threat than compromised cables. These stations can easily be compromised and open your device to all sorts of malware and vulnerabilities. It's best to use your own charger at all times.
To avoid falling victim to this hack, always pack an extra charging cable in your handbag. If you forgot to take one along or you can't seem to find it, purchase a new one to use while you're away. You can find charging cables in almost any convenience store for under $10 – a small investment for your safety.
The next time you're running low on juice and a stranger offers you the use of their charging cable, make the safe choice!