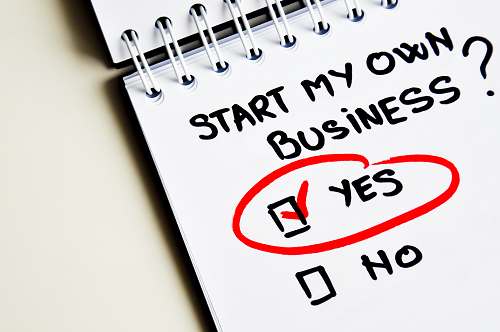 You're thinking of starting your own business – congratulations! So how do you know if business ownership right for you? Tyler Hilsabeck, Business Advisor at Open to Business for Washington County, recommends asking yourself these questions:
Are you passionate?
Do you have the knowledge/expertise?
Do you have the financial resources?
Do you have the support?
Next, ask yourself "Is my business idea feasible?" Hilsabeck says you want to answer "yes" to all of these:
Is your idea serving an unmet need and solving an unserved need?
Could my product/service could be expanded or modified to gain additional customer groups.
I know who my potential buyers are.
I know what it will take to start and run my business.
I understand what it will take to obtain funding.
I'm ready to work to make my business successful!
As a business owner, not only will you be the CEO or President of your new company, you will also be responsible for all other aspects:
Administration – answering phones, handling paperwork, office management and insurance issues
Accounting – bookkeeping, taxes, payables and receivables
Human resources – hiring, firing and managing employees
Marketing – creating and promoting your company's image via advertising, PR and more
Sales – prospecting for new leads, cold calling, making sales presentations and closing
Customer service – taking orders, handling complaints and building relationships
Production and fulfillment – manufacturing your product or arranging to have it made; shipping and warehousing
Information technology – choosing, purchasing and troubleshooting technology
Location - negotiating leases or purchase agreements
Remember, hard work pays off and nobody will put in more work for your business than you. Be sure to reach out for support when needed and always think about the future and where your business is heading. And perhaps most importantly, have fun!
What is Open to Business?
Washington County has partnered with the Metropolitan Consortium of Community Developers (MCCD) to offer the Open to Business program. This program provides free one-on-one assistance from MCCD's expert staff, customized to meet the specific needs of each entrepreneur. For more information, contact Tyler Hilsabeck at This email address is being protected from spambots. You need JavaScript enabled to view it..
To discuss your business needs and learn how Ideal can help you achieve your goals, contact Josh Anderson, Business Relationship Specialist, at 651-773-2763 or email him at This email address is being protected from spambots. You need JavaScript enabled to view it.. You can also request an appointment.