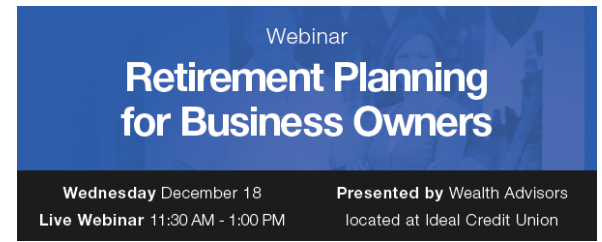 (Woodbury, MN – December 10, 2019) Ideal Credit Union will host a no-cost Retirement Planning for Business Owners webinar from 11:30 a.m.-1:00 p.m. on Wednesday, December 18, 2919. Join Ideal's Business Relationship Specialist Josh Anderson and Senior Wealth Advisor Craig Lundquist*, who will cover topics to help business owners answer some of the most basic questions surrounding retirement planning, including: what does retirement mean to you, when do you plan to retire, how long will your retirement last and more.
Ideal Credit Union workshops are open to the community and you do not need to be a member to attend. Registration is required and can be done online at idealcu.com/business-banking/business-workshops.
Ideal started to offer quarterly workshops to businesses in March 2019. The first workshop featured Tyler Hilsabeck from the Washington County Open to Business Program, who shared the basics of starting your own business. Ideal's second quarter 2019 workshop in June, presented by Hubbard Interactive, covered the benefits of advertising with Facebook and provided business owners with an overview of the platform. Ideal's third quarter workshop covered the basics of QuickBooks with guest presenter Randy Morris from Fiscal Foundations. Surveys collected from attendees show rave reviews and the credit union is excited to continue to offer these valuable no-cost workshops in 2020.
To shine a spotlight on the variety of business banking services offered by Ideal CU, and highlight the unique and diverse business members we serve, Ideal started producing quarterly Business Member Spotlight videos in 2019. The one-minute videos capture the personality of each individual business owner and tells their story of how and why they started their business, and how Ideal CU has been a partner in helping meet their unique business needs.
Ideal's mission in business banking is to provide the services, products, and resources business owners need to help their business succeed. The credit union's priority is to help Minnesota and Wisconsin business owners increase their bottom line and enjoy a more convenient way to manage day-to-day tasks.
Founded in 1926, Ideal Credit Union is a member owned financial institution that is dedicated to providing financial services driven by a sincere and personal interest in the needs of our employees, members and community. Ideal CU offers a complete range of services, including a full suite of digital banking products, savings, checking, loans, mortgage products, exclusive VIP member payback, business services, investment services and more. Offices are located in Eagan, Hugo, Inver Grove Heights, North St. Paul, Stillwater and Woodbury. Visit idealcu.com for details and directions. Ideal has been voted "Best Credit Union in the East Metro" three years in a row by readers of the Stillwater Gazette and was named a 2018 Star Tribune Top 150 Workplace. Equal Housing Lender.
FR-2855428.1-1219-0122
*Representatives are registered, securities sold, advisory services offered through CUNA Brokerage Services, Inc. (CBSI), member FINRA/SIPC, a registered broker/dealer and investment advisor, which is not an affiliate of the credit union. CBSI is under contract with the financial institution to make securities available to members. Not NCUA/NCUSIF/FDIC insured, May Lose Value, No Financial Institution Guarantee. Not a deposit of any financial institution.