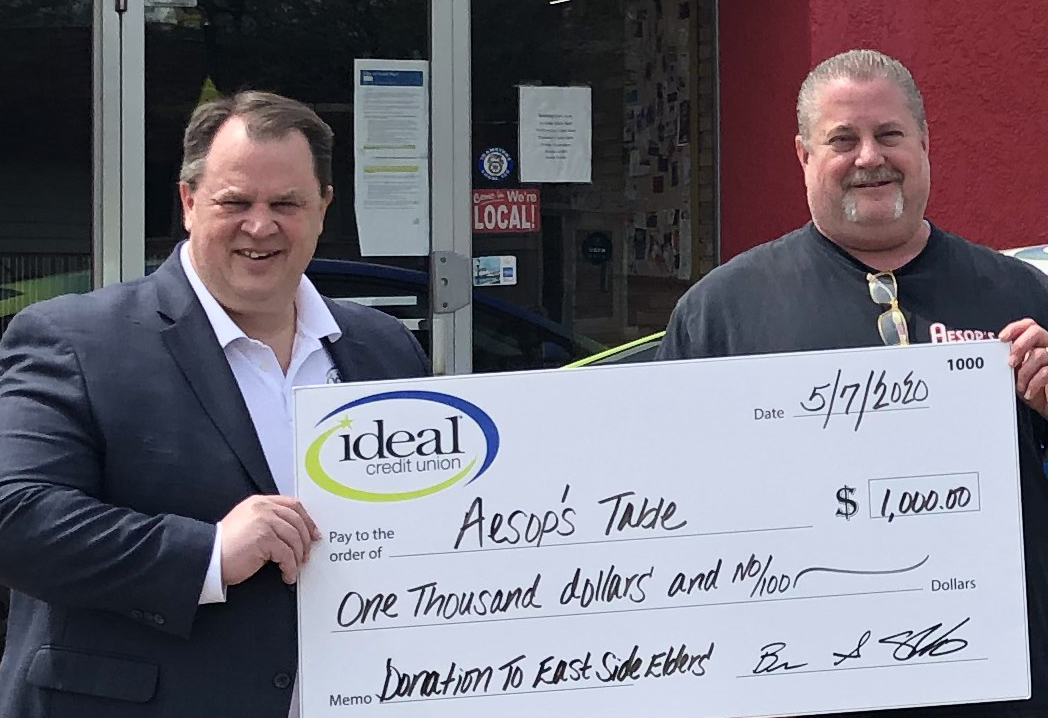 (Woodbury, MN – May 27, 2020) – Ideal Credit Union and President/CEO Brian Sherrick recently accepted a #CUs4U Challenge to give back to essential workers and support our local community. The idea for #CUs4C was started by Dave Boden at Hiway Federal CU, who challenged other Minnesota Credit Union CEOs to step up and show our appreciation to essential workers on the frontlines of this pandemic. "Credit unions have a history of going above and beyond in times of need and this challenge gives us an opportunity to make a difference in the lives of those everyday heroes who are going above and beyond for all of us," Sherrick stated.
To help combat food insecurity among some of our most vulnerable citizens, Sherrick went to Aesop's Table in St. Paul to visit long-time Ideal CU business member Tony Mahmood, and surprise him with a check for $1,000 to support their partnership with East Side Elders to provide hot meals to seniors living at the Cambric Senior Apartments. "As a life-long East-sider, this cause is near and dear to my heart, as is our long-standing relationship with Aesop's. This $1,000 donation will provide hundreds of nutritious meals to Cambric residents and bring a much needed boost to the spirits of all involved," Sherrick said.
East Side Elders serves elderly age 60+ on the East Side of Saint Paul. They provide transportation, chore help, grocery delivery, caregiver support, wellness services, and much more. East Side Elders mission is to create a circle of care around the elders in Dayton's Bluff, Payne-Phalen, and Conway-Battle Creek neighborhoods, empowering seniors to live safe and independent lives in their homes.
"On behalf of Ideal Credit Union, we'd like to thank all of our everyday heroes for your selfless service. And now let's keep this challenge going. We nominate Jed Meyer from St. Cloud Financial Credit Union. Jed, you're on the clock for #CUs4U," Sherrick stated. To view Sherrick's video challenge visit Ideal CU's Facebook page.
Founded in 1926, Ideal Credit Union is a member owned financial institution that is dedicated to providing financial services driven by a sincere and personal interest in the needs of our employees, members and community. Ideal CU offers a complete range of services, including a full suite of digital banking products, savings, checking, loans, mortgage products, business services, investment services and more. Offices are located in Eagan, Hugo, Inver Grove Heights, North St. Paul, Stillwater and Woodbury. Visit idealcu.com for details and directions. Ideal has been voted "Best Credit Union in the East Metro" four years in a row by readers of the Stillwater Gazette and was named a 2019 Star Tribune Top Workplace. Equal Housing Lender.