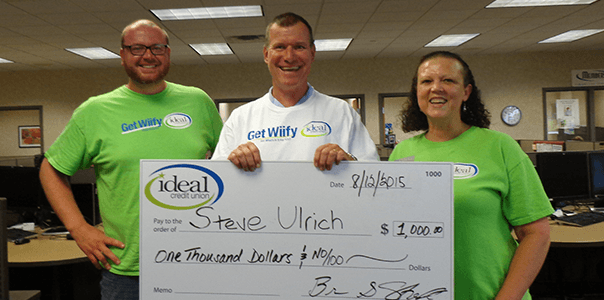 (Woodbury, MN – August 27, 2015) – Last year's Community Appreciation event was such a big hit, Ideal Credit Union did it again - five branches in five days from August 10 to 14, 2015. Members and the community were invited to stop by one or all five branches to enjoy a grilled hot dog and receive a free sample $1.00 bill from the vault, which would be the ticket to winning $1,000 in one of the credit union's five daily drawings.
As an added bonus, attendees received a free"Get Wiify" t-shirt. "Get Wiify," an acronym for "What's in it for You," is a fresh approach to enlighten members and prospective members about the value-added products, services and benefits Ideal CU offers. Ideal is proud of the many ways it gives back, such as cashback through the exclusive VIP program, great rates and lower fees, and its commitment to serve local communities.
Hundreds turned out each day to take part in the celebration. Over 3,300 hot dogs were consumed over the course of the week, with 600 left over hot dogs donated to missions in St. Paul. Five lucky members each pocketed $1,000 for having the winning serial number on their $1.00.
Eagan's $1,000 winner was James Flis, a 31-year member of Ideal Credit Union. Hugo's winner, Naomi Meyer, joined the credit union in 1988 and proudly wore her "Get Wiify" t-shirt to accept her $1,000 prize.
In North St. Paul, Steve Ulrich, a VIP Plus member for 29 years, thought his co-workers were playing a prank on him when he got the call notifying him he had won $1,000. West St. Paul's winner, Tom Schultz, plans to use his winnings to visit his daughter and only grandchildren in Switzerland. Woodbury's winner, Diane Quast, was celebrating her 50th wedding anniversary with husband Victor the day she won $1,000.
The Ideal Credit Union Community Foundation donated $2,500 total and presented $500 checks to local food shelf representatives at each of the credit union's five branches during the celebration to help feed our hungry neighbors. The recipients were The Open Door in Eagan, the Hugo Good Neighbors Food Shelf in Hugo, the North St. Paul Emergency Food Shelf in North St. Paul, Neighbors, Inc., in West St. Paul and the Christian Cupboard in Woodbury.
As an active community partner, Ideal CU encouraged attendees to bring a nonperishable food item to donate to local food shelves. Once again attendees responded by bringing donations that filled the table each day at each event. More than 500 attendees also donated their $1.00 sample. Each dollar is the equivalent of $9.00 in spending power for local food shelves according to Dave Zick, president of the North St. Paul Food Shelf Board. Coats for the annual Salvation Army Coats for Kids drive were also collected.
"We are grateful for the incredible support we have received throughout our 89 year history," said Ideal CU President/CEO Brian Sherrick. "Throughout the week I had the opportunity to talk to members and hear first-hand how happy they are with our services and our commitment to our local communities. I thank everyone for attending and making the week such a success."
Founded in 1926, Ideal Credit Union (formerly Postal Credit Union) is a member owned financial institution that specializes in providing excellent member service, great rates and convenience. Ideal CU offers a complete range of services, including 24/7 loan approval, mortgages, online banking, online deposits, mobile banking, mobile check deposit and mobile bill pay, Apple Pay, free checking, business services, investment services and more. Ideal CU serves the Twin Cities metro area with office locations in Eagan, Hugo, North St. Paul, West St. Paul and Woodbury.