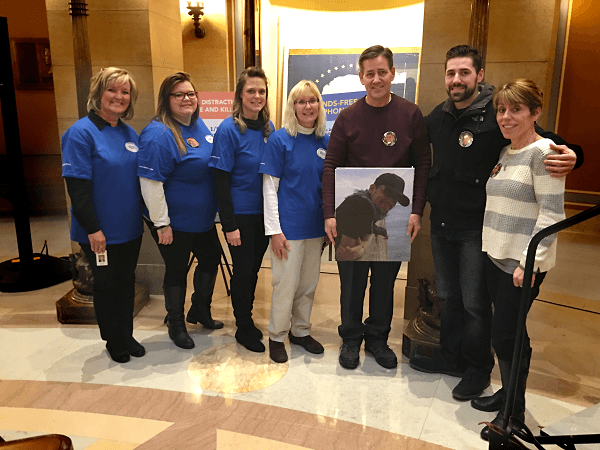 On February 22, I and several coworkers from Ideal Credit Union had the privilege to join the family of David Riggs and others affected by distracted driving at the Minnesota State Capitol to rally in support of legislation that would prohibit the use of hand-held cell phones while driving.
The issue of distracted driving is a personal one for your credit union. David Riggs was an employee, coworker and friend who lost his life to a distracted driver in August of 2013. David was part of our credit union family and his loss hit all of us hard. In his memory, Ideal created a don't text and drive awareness campaign, "Stop the Texts, Stop the Wrecks," to call attention to the dangers of distracted driving and urge motorists to take a pledge to put the phone away when they get behind the wheel.
According to the Minnesota Safety Council, one in four crashes and one in five traffic fatalities involve distracted driving. It is now the fourth most common contributing factor in fatalities, behind speed, impairment and fatigue.
"It is Ideal Credit Union's goal to create awareness, engagement and more pledges throughout the upcoming years," said Brian Sherrick, Ideal Credit Union President/CEO. "We want to change behaviors and drive awareness on distracted driving, and that is why we support this important legislation."
By taking the pledge at www.idealcu.com/pledge, you agree to not text while operating your vehicle, keeping your eyes on the road at all times and encourage others to help end distracted driving. Let's all work together to make the roads a safer place. Put your phone away when you get behind the wheel and become part of the solution, not the problem. Do it for David.