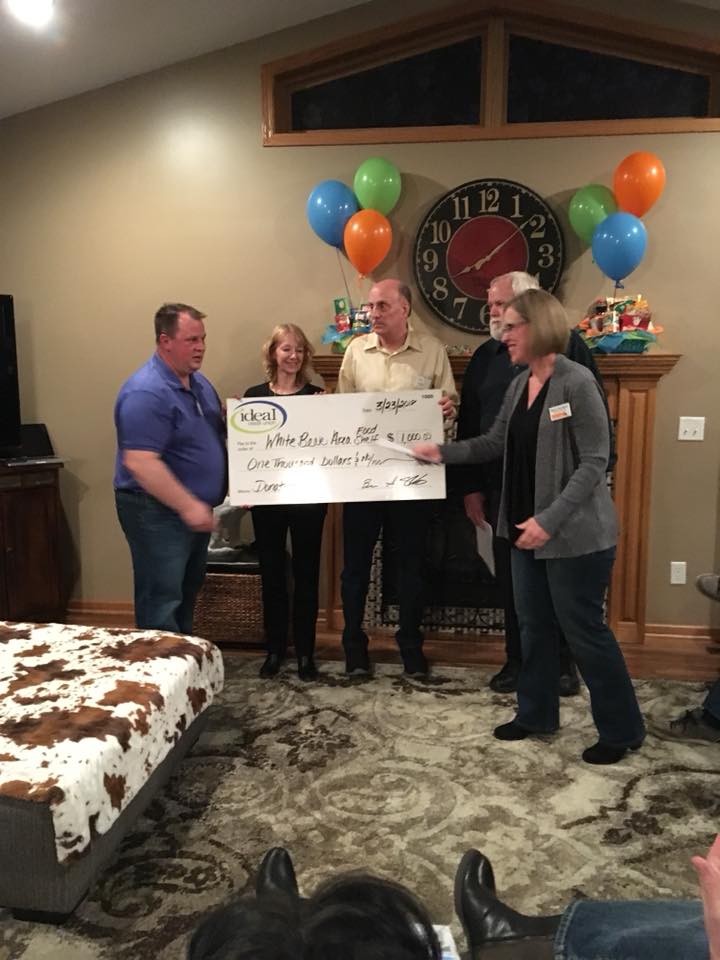 (Woodbury, MN – March 30, 2018) Ideal Credit Union President/CEO Brian Sherrick and wife Terrie hosted a first-ever "Party with a Purpose" fundraiser at their home on March 23rd to benefit the White Bear Area Emergency Food Shelf. The event drew 54 of the Sherrick's family and friends and helped raise over $5,000, which far exceeded expectations.
Among those in attendance were Ideal CU Board Members Bob Vance Jr. and Peter Olsen, Supervisory Committee Members Mary Westberg and Dan Olson, and Minnesota Credit Union Network President Mark Cummins.
Terrie Sherrick volunteers weekly at the White Bear Area Emergency Food Shelf. She also serves on the Resource Committee. The Sherricks graciously offered to host the fundraiser. Ideal CU generously sponsored the event with a $1,000 donation.
As part of Minnesota FoodShare's March campaign, participating food shelves receive an allocation from its FoodFund based on the number of individuals they serve annually and the cumulative pounds and dollars they collect from February 26 to April 8. The Sherrick's successful fundraiser will help the food shelf stretch those dollars even further.
The White Bear Area Emergency Food Shelf has served as a critical resource for families struggling with food insecurity since 1977. In 2017, the food shelf provided 602,005 meals to 3,900 individuals at 11,921 visits. Of the individuals served, 51% were children, 11% were seniors over 65 and one-third were visiting for the first time. Over 625 families received food and support in any given month. Staff and volunteers also help connect neighbors to community resources for housing, energy assistance, health care, job support, legal advice and other support as needed.
As an active community partner, Ideal Credit Union supports a variety of important causes that help fill a void and bring essential services to those in need, and works to create awareness of opportunities to help. "Terrie and I were honored to host this important event and help raise awareness of the great work the White Bear Area Emergency Food Shelf, its staff, volunteers and supporters provide to our neighbors in need, " said Ideal CU President/CEO Brian Sherrick. "We are grateful for the overwhelming response and generosity of those who attended."
Founded in 1926, Ideal Credit Union is a member owned financial institution that is dedicated to providing financial services driven by a sincere and personal interest in the needs of our employees, members and community. Ideal CU offers a complete range of services, including a full suite of electronic banking products, savings, checking, loans, mortgage products, exclusive VIP member payback, business services, investment services and more. Offices are located in Eagan, Hugo, Inver Grove Heights, North St. Paul, Stillwater and Woodbury. Visit idealcu.com for details and directions. Equal Housing Lender.