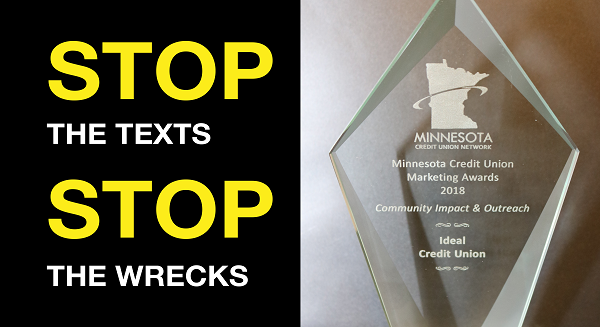 (Woodbury, MN – December 13, 2018) – Ideal Credit Union is proud to announce it has received a 2018 Minnesota Credit Union Community Impact & Outreach Marketing Award for its ongoing "Stop the Texts, Stop the Wrecks" don't text and drive awareness campaign. Sponsored by the Minnesota Credit Union Network (MnCUN), the award program recognizes outstanding efforts in the areas of branding, community impact and outreach, digital advertising, video, and complete marketing campaigns.
Ideal Credit Union launched the ongoing don't text and drive awareness campaign after losing David Riggs, a 20 year old employee, to a distracted driver who was texting behind the wheel. The "Stop the Texts, Stop the Wrecks" campaign targets members and the community at large, inviting them to join Ideal in taking a stand against distracted driving. By taking the pledge, the drivers agreed to not text while operating a vehicle, keep their eyes on the road at all times and encourage others to help end distracted driving.
"Ideal Credit Union is passionate about serving our members and about making an impact in the community. The issue of distracted driving is not just a growing public safety issue, it's personal, and has had a devastating impact on our credit union family. In David's memory, Ideal CU embraced the opportunity to help champion efforts to educate our members and the communities we serve on the dangers of distracted driving and ultimately change behaviors," said Brian Sherrick, Ideal CU President/CEO.
The "Stop the Texts, Stop the Wrecks" campaign targets everyone who operates a motor vehicle, the parents/guardians of teen drivers, educators, law enforcement personnel, government leaders and legislators who write laws and influence public policy, and those in a position to make our roads safer. By sharing David's tragic story and shining the spotlight on distracted driving, Ideal CU's goal is to create greater awareness of the dangers associated with cell phone/mobile device use behind the wheel and encourage drivers to rethink their habits.
Over the last five years (2013-2017) in Minnesota, distracted or inattentive driving was a contributing factor in one in five crashes, resulting in an average of 53 deaths and 216 serious injuries each year. The Office of Traffic Safety, a division of the Minnesota Department of Public Safety, estimates these numbers are underreported due to law enforcement's challenge in determining distraction as a crash factor.
In Minnesota, it is illegal for drivers to read, compose or send texts and emails, and go online while the vehicle is in motion or a part of traffic. This includes sitting at a stoplight or stop sign or stopped in traffic. It also is illegal for drivers with a permit or provisional driver's license to use a cell phone while driving, except for emergencies to call 911. Minnesota law states drivers face a $50 fine, plus court fees, for a first offense. They'll pay an additional $225 fine (for a total of $275), plus court fees, for second and subsequent violations of the texting-while-driving law. Ideal CU has joined the Riggs family and other advocates to take a stand against distracted driving and advocate for stronger legislation and increased enforcement in an effort to ensure not only the safety of our local communities but all motorists who share the roads.
Founded in 1926, Ideal Credit Union is a member owned financial institution that is dedicated to providing financial services driven by a sincere and personal interest in the needs of our employees, members and community. Ideal CU offers a complete range of services, including a full suite of digital banking products, savings, checking, loans, mortgage products, exclusive VIP member payback, business services, investment services and more. Offices are located in Eagan, Hugo, Inver Grove Heights, North St. Paul, Stillwater and Woodbury. Visit idealcu.com for details and directions. Ideal has been voted "Best Credit Union in the East Metro" 2 years in a row by readers of the Stillwater Gazette and was recently named a 2018 Star Tribune Top 150 Workplace. Equal Housing Lender.