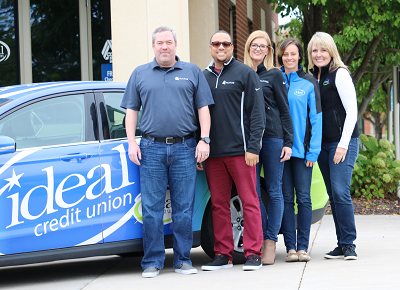 (Woodbury, MN – October 15, 2018) Ideal Credit Union has launched a new digital banking platform intuitively designed to enhance security and offer new and expanded features and functionality, including personalization, customizable notifications, touch ID and face recognition and much more. Ideal CU partnered with Alkami Technology based in Plano, Texas, to provide its more than 52,000 members with an innovative, omni-channel digital banking experience that is seamless, consistent and user-friendly across all devices.
Ideal currently has over 30,000 active online and mobile banking users. In just the first week, more than 16,100 members (53.86%) logged into Ideal's enhanced digital banking and mobile banking app. "Online and mobile banking are essential tools our members depend on and use daily to manage their finances," said Ideal CU President/CEO Brian Sherrick. "Ideal's staff have been rock stars with their dedication and commitment throughout the implementation process, putting in long hours to ensure we were ready to go on day one. After much due diligence, we are excited to offer an enhanced, state-of-the-art digital banking platform that delivers the features and functionality our members want and need to make their lives easier."
Ideal offers a free customized mobile banking app, which iPhone and Android users can download to manage their accounts on the go. Ideal's mobile banking app is a must-have for members who prefer their smartphone, tablet or other mobile device to view their account information and built for secure and convenient access.
Founded in 1926, Ideal Credit Union is a member owned financial institution that is dedicated to providing financial services driven by a sincere and personal interest in the needs of our employees, members and community. Ideal CU offers a complete range of services, including a full suite of digital banking products, savings, checking, loans, mortgage products, exclusive VIP member payback, business services, investment services and more. Offices are located in Eagan, Hugo, Inver Grove Heights, North St. Paul, Stillwater and Woodbury. Visit idealcu.com for details and directions. Ideal has been voted "Best Credit Union in the East Metro" 2 years in a row by readers of the Stillwater Gazette and was recently named a 2018 Star Tribune Top 150 Workplace. Equal Housing Lender.
About Alkami Technology
Alkami Technology, Inc. provides online and mobile banking solutions for credit unions and banks. Based in Plano, Texas, the company's digital banking platform delivers unparalleled functionality, security, flexibility and extensibility with a superior architecture designed for the future of digital banking. With its modern interface, fully hosted business intelligence solution and customizable feature set, the platform is the ultimate digital banking solution for financial institutions. For more information about Alkami, visit https://www.alkamitech.com/.
Photo caption:
Ideal CU partnered with Alkami Technology to provide a seamless digital banking experience. Pictured above (l-r) are Alkami team members Jon Stocksill, L'Erin Hampton, Katy McCabe, Ideal CU VP of Digital Innovation Shannon Butler, and Ideal EVP of Operations Alisha Johnson.