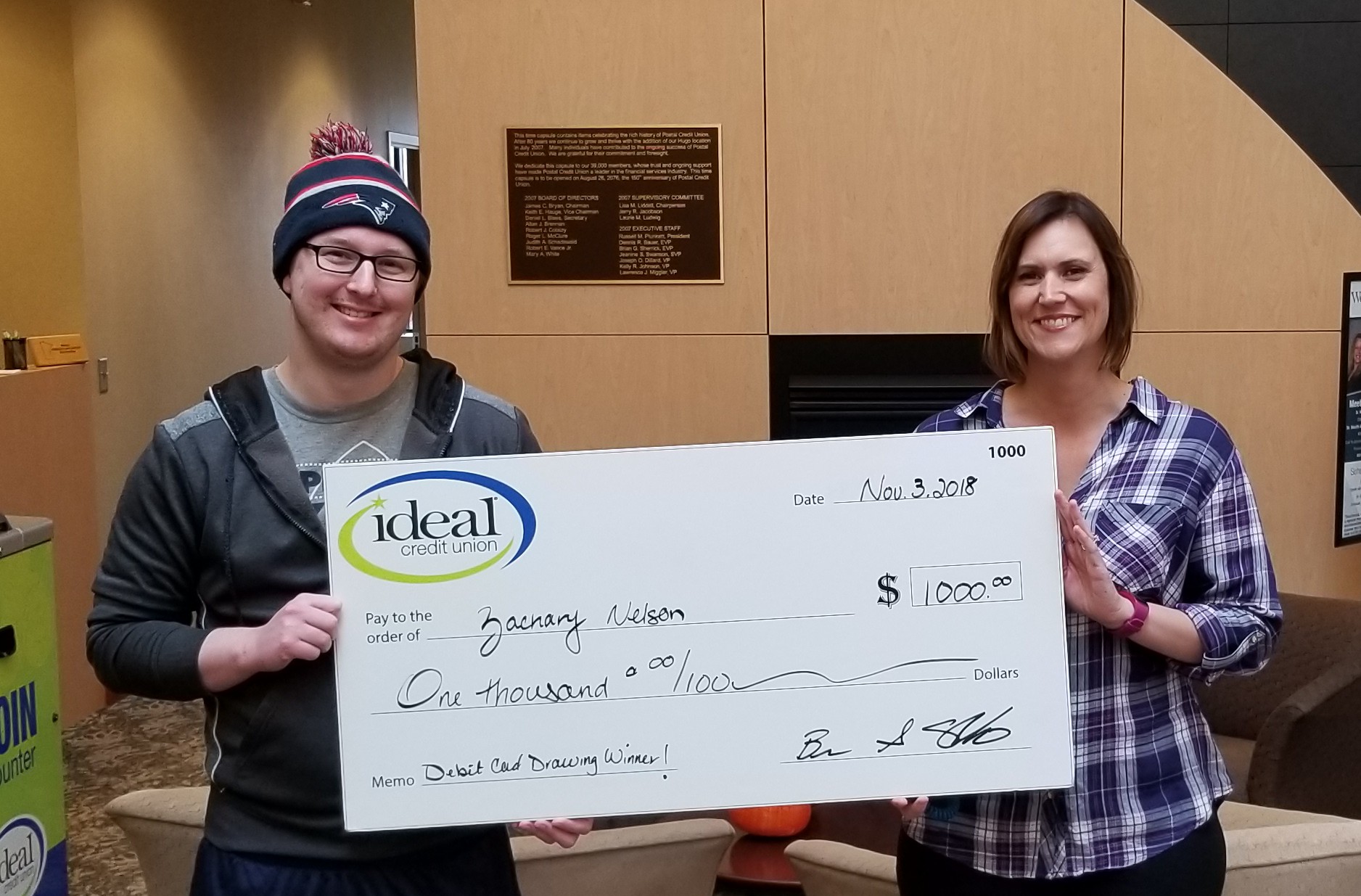 (Woodbury, MN – January 18, 2019) – Ideal Credit Union's popular monthly $1,000 "Use & Win" Debit Card Giveaway is back for another year of giving in 2019. Since the program's inception in January of 2017, Ideal CU has given away $24,000 to 24 lucky members chosen at random in the "Use & Win" Debit Card promotion. Previous winners have used the funds to help pay for everything from adopting a baby to car repairs, home improvements, bills, vacations, maternity leave, tuition, study abroad programs and much more!
Ideal CU Personal Checking members age 18 and older receive one (1) entry for each qualifying Ideal CU Debit Card transaction completed during the month. Eligible cards include a personal Ideal CU Cash & Check Card, My Rewards™ Gold Debit Card or My Rewards™ Platinum Debit Card. The more times the card is used for everyday purchases, the greater the chances of winning. It's that easy!
Ideal's unique My Rewards™ Gold and Platinum Debit Cards deliver benefits and rewards normally associated with premium credit cards. Benefits include reward points, cash back, roadside assistance, prescription savings, hotel & car rental discounts and more!
Random drawings are conducted once a month for the promotional period, which runs through December 2019, from all eligible entries received for each drawing. Winners are chosen on the first Wednesday of each month. More details and official rules can be found at idealcu.com.
"Our monthly $1,000 Use & Win Debit Card Giveaway is just one of the many ways we reward our members for using our products and services," stated Ideal CU President/CEO Brian Sherrick. "With our VIP+ payback, now over $3.6 million, $6,000 annual Community Celebration giveaway, $4,000 Holiday Debit Card giveaway, and the monthly Use & Win, it really does pay to be a member of Ideal Credit Union."
Founded in 1926, Ideal Credit Union is a member owned financial institution that is dedicated to providing financial services driven by a sincere and personal interest in the needs of our employees, members and community. Ideal CU offers a complete range of services, including a full suite of digital banking products, savings, checking, loans, mortgage products, exclusive VIP member payback, business services, investment services and more. Offices are located in Eagan, Hugo, Inver Grove Heights, North St. Paul, Stillwater and Woodbury. Visit idealcu.com for details and directions. Ideal has been voted "Best Credit Union in the East Metro" two years in a row by readers of the Stillwater Gazette and was named a 2018 Star Tribune Top 150 Workplace. Equal Housing Lender.